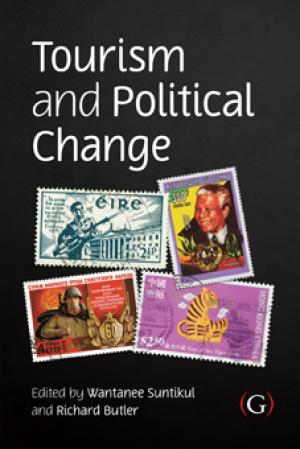 Tourism & Political Change
Wantanee Suntikul & Richard Butler
ISBN: 978-1-906884-11-6
---
| | | |
Tourism is a vital tool for political and economic change. Calls for boycotts by tourists of countries with undesirable political regimes, the use of tourism to initiate political discussions, increased pressure for fair trade, and the use of tourism for economic transformation all reflect the huge impact that tourist activity and the tourism industry has on political change.
Tourism and Political Change
addresses these issues of great current relevance and importance focussing on events and their impacts. The effects of the fall of the Berlin Wall, the implications of political fragmentation on tourism, such as in the former Soviet republics, the acceptance of tourism in China, the end of Apartheid and the effects on tourism in South Africa and the implications and effects of religion on tourism in Islamic countries amongst others, are used as a lens to discuss the past, present and future of the tourism industry.
With international contributions from an esteemed list of experienced individuals, the book is subdivided into seven sections, two thematic (Introduction and Conclusion) and five thematic with original chapters which between them, cover a variety of political changes in many different parts of the world at different scales.
Hardback: £75.00, Euro 98.00, US$ 120.00
E-Chapter: £5.99, Euro 7.99, US$ 9.99 each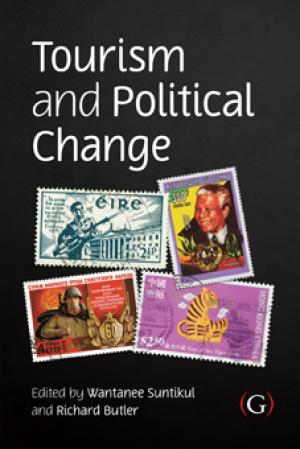 Table of contents
1 Introduction; 2 Politics and Tourism: Interdependency and Implications in Understanding Change: Part I: Unification/Reunification; 3 German Reunification and Tourism in Berlin; 4 The European Union: Between the Global and the National, and Between Neo-Liberalism and Interventionism; 5 The Implications and Effects of the Handover of Colonies – Macau: Part II: Increasing Autonomy; 6 Devolution – Towards Independence: Tourism in Scotland in the 21st Century; 7 Political Change and Tourism in Arctic Canada; 8 Central and Eastern Europe: the End of the Soviet Union and its Satellites: Part III: Normalisation/Opening; 9 Tourism as an Instrument of Foreign Policy: the U.S Trade Embargo on Cuba; 10 Arab Politics and Tourism: Political Change and Tourism in the Great Socialist People's Libyan Arab Jamahiriya; 11 From Apartheid to a 'Managed Revolution': Tourism Development and the Transition in South Africa; 12 Tourism and Political Transition in Reform-Era Vietnam; Part IV: Political Unrest; 13 Tourism and Political Change in Nepal; 14 Political Change and Tourism: Coups in Fiji; 15 Iran or Persia: What's in a Name? The Decline and Fall of a Tourism Industry: Part V: Changes in Political Relations; 16 Does Tourism have a Role in Promoting Peace on the Korean Peninsula?; 17 The Opening of the Ledra Crossing in Nicosia: Social and Economic Consequences; 18 Politics on Ice – Tourism in Antarctica, Conclusions; 19 Conclusions, Index
About the authors
About the editors

Dr Wantanee Suntikul is Assistant Professor in Tourism Planning and Development at the Insititue For Tourism Studies in Macao, China. Besides teaching and researching, Wantanee has also been involved in several tourism related consultancy projects in Southeast Asia. Her core research interest and expertise are in the political, social and environmental aspects of tourism planning and development and poverty alleviation.

Professor Richard Butler is Professor in the Department of Hospitality and Tourism Management of University of Strathclyde. He has published widely in tourism journals, and produced eleven books on tourism and many chapters in other books. His main fields of interest are the development process of tourist destinations and the subsequent impacts of tourism, issues of carrying capacity and sustainability, and tourism in remote areas and islands. He is currently editor Emeritus of 'The Journal of Tourism and Hospitality Research'.