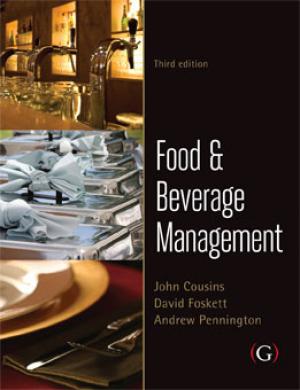 Food & Beverage Management 3/e
John Cousins, David Foskett & Andrew Pennington
ISBN: 978-1-906884-46-8 hbk; 9781906884260 pbk
---
| | | |
Food and Beverage Management 3/e
is a fantastic insight into the mechanics behind the all operational and management aspects of Food and Beverage. The range of this book is vast and covers an amalgamation of traditional styles and more modern techniques. This book is a concise, inspiring and educational read on the wonderful world of Food and Beverage Management'
Ashley Shaw, House Manager, The Westbury, Mayfair, London
"...great care has been given to detail, topics both current and futuristic and an overall operational view that a student can only cherish, treasure and use well into his or her career... This shall and will remain a brilliant reference ... "
Cyrus Todiwala, Chef Patron, Café Spice Namasté, London
See below for further enthusiastic endorsements
This third edition of the best selling textbook
Food and Beverage Management for the hospitality, tourism & event industries
has been updated and revised to take account of current trends within education and the hospitality, tourism and leisure industries. In particular the consideration of food and beverage (or foodservice) operations includes greater account being taken of the management of foodservice operations within a changing business environment.
Key features of the book:
Clear, user friendly and structured text based on the development of the foodservice cycle
Content based on the application of systems operations management theory to traditional and current industry practice in food and beverage operations
Sets the consideration of the management of food and beverage operations within a broader business framework.
Specially designed to support learning being divided into ten chapters, ideal for semester teaching, with each chapter having identified learning outcomes and the provision of references and additional sources of information, together with supporting PowerPoint presentations
Written by an experienced team of authors including John Cousins and David Foskett who are recognised authorities in food and beverage operations and culinary arts.
Food and Beverage Management
has been constructed to meet the need of a range of education provision at diploma and undergraduate levels; for in-company training programmes, and to provide a sound foundation on which to extend higher level studies. It is an ideal text for students and practitioners involved at a variety of levels in food and beverage (or foodservice) management within the hospitality, tourism, leisure and events industries. The book will also be of value to those in the hospitality, tourism and events industries who are responsible for purchasing food and beverage services.
"An inexpensive and comprehensive text which should be made compulsory reading for anyone involved in studying about, or working in food and beverage operations. This up to date text manages to effectively combine academic theory and practical application with a focus on the customer, the business and strategy which sets it apart from other texts. I would certainly recommend this book to everyone."
Carole Rodger, Senior Lecturer, Leeds Metropolitan University
"... by far, the most comprehensive and truly informative preparation, for those seriously considering entering the Hospitality business. The book has clearly been complied by professionals who understand the Hospitality business and who are also gifted in preparing each student for a 'no surprise' entry into the Hotel industry. "
Stephen Boxall, Managing Director, The Ritz, London
"The Food and Beverage text book is extremely useful as it covers everything you need to know about Food and Beverage when it comes to the hospitality, tourism and the events Industry. It explores current trends and justifies their relevance to industry and in particular the text book clearly considers food and beverage operations within a business framework. The book is a conductive tool to be used not only for the theory aspect of education but also assists when learning practical food and beverage skills. The text helps to precisely explain the design, planning and control needed to be considered in food and beverage operations and also explores key topics such as customer service, food production and service methods which are all essential when it comes to the Food and Beverage sector. Definitely a text I would recommend to become an expert in the Food and Beverage field, a brilliant book"
Dipna Anand, Lecturer in Catering, West London College, Hammersmith
"Food and Beverage Management
is a superb source of information, covering all aspects of the F&B operation, and is particularly useful both for training staff and background reading. The examples are easy to follow, yet detailed enough for all levels of F&B service."
Conor O'Leary, Director of Food and Beverage, Hyatt Regency London - The Churchill
"... Education and training within the Food and Beverage Industry is critically important. This text provides dedicated students with a strong foundation in
Food and Beverage Management
, that in conjunction with practical work experience will assist in developing strong and effective Hospitality Industry leaders."
Kiaran W. MacDonald, General Manager, The Savoy London
"... excellent in every dimension, it truly encapsulates all the elements of todays leading edge in Food and Beverage Management , addressing up to the minute challenges for those in , or entering this great profession , a book of both reference and knowledge , extremely well researched yet delivered in a concise easy to read format."
Francis Green, General Manager, The Landmark Hotel, London
"One only needs to look at the list of sources in the list of acknowledgements to know that this is a book which has been meticulously researched and deserves a place on the desk of anyone with a serious interest in the variety of food and beverage operations.
Although I started my own career in hotel kitchen, restaurant and bar operations, my management development eventually became concentrated in the services of hotel accommodation. I wish a book like this, which so clearly identifies all the stages in food and beverage management from concept to delivery and the supporting services it depends upon, had been available to me when I redressed the balance of my management knowledge.
Graham Bamford, General Manager, The Royal Garden Hotel, London.
...Food and Beverage Management
encompasses three very dynamic, interrelated and converging industry sectors, i.e. hospitality, tourism and events. The ten well-structured key chapters provide the foundation, principles and cornerstones of information required as a basis of reference and development of understanding and of strategic decision making, as well as offering a starting point for specific local management situations. The contents are not only seen as a focus of traditions from the past, but a reflection of contemporary f & b management and will be essential reading for further and higher education courses in this field of learning and teaching...
Joachim M. Schafheitle, Senior Lecturer, Bournemouth University
Publication and Prices
Pub Date: September 2011
Hardback: £75, Euro 98, US$ 120
Paperback: £29.99, Euro 36, US$ 48
E-Chapter: £4.99, Euro 5.99, US$ 7.99 each
A paperback copy is available on inspection to bona fide lecturers-conditions apply.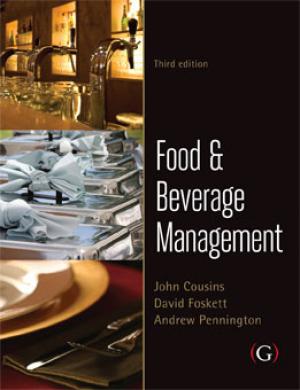 About the authors
John Cousins is an author, consultant and trainer specialising in food and beverage operations and hospitality management and is the Director of The Food and Beverage Training Company, London.

David Foskett is a consultant and author and Professor of Hospitality Studies at the London School of Tourism, Hospitality and Leisure, University of West London.

Andrew Pennington is Director for The Centre of Culinary Entrepreneurship and Hotel Management at HELP college of Arts and Technology, Kuala Lumpur Malaysia.

Further endorsements from food and beverage experts