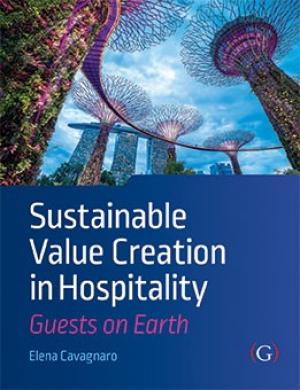 Sustainable Value Creation in Hospitality
Guests on Earth
ISBN: 9781911396376 HBK; 9781911396383 PBK; 9781911396390 eBook
---
| | | |
The environmental, social and financial dimensions of sustainability rest on the ethical principles of avoiding harm and doing good. This means diminishing the environmental impact of societies, organizations and individuals and avoiding waste in all its forms wherever possible. Doing good means leaving a positive environmental and social footprint and throughout, this text the focus is on all three levels.
Based on theory and practice it takes the student through the key issues focusing on the hospitality industry, particularly the hotel sector. It analyses environmental, economic and social value in the industry, and what can be done to maximise the good for all the stakeholders in the long term. In an accessible and structured manner, it delivers
A clear focus on the four major areas in which value is created in the hotel industry- distribution; buildings; procurement and operations
A clear description and analysis of the key sustainability challenges faced in each area
A wide range of international industry cases
Chapters structured with clear introductions, summaries and learning outcomes
It is an ideal text for students on bachelors and masters courses in Hospitality Management, Hotel Management and Tourism Management and for practitioners in the hospitality sector.
Publication due April 2018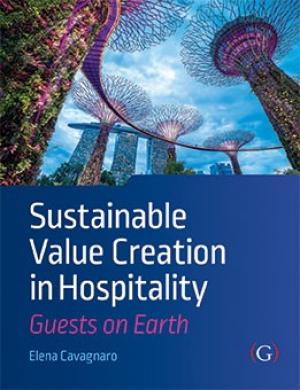 Table of contents
Introduction: The sustainable hospitality value chain; Part 1 Distribution: Ch 1 Distribution channels: direct reservation; Ch 2 Distribution channels: Global Distribution System / Reservation systems; Ch 3 Distribution channels: Online Travel Agents; Ch 4 Distribution channels: Internet booking engines, Social Media; Ch 5 Transport; Ch 6 Destination; Part 2 Buildings: Ch 7 Buildings; CH 8 Equipment; Ch 9 Technology; Part 3 Purchasing: Ch 10 Purchasing: local; Ch 11 Purchasing: national; CH 12 Purchasing: international; Ch 13 Vendors; Ch 14 Transport; Part 4 Operations: Ch 15 Staff: intern; Ch 16 Staff: outsource
Ch 17 Rooms; CH 18 Supporting; Ch 19 F&B; Conclusion
Table of contents
Introduction: The sustainable hospitality value chain; Part 1 Distribution: Ch 1 Distribution channels: direct reservation; Ch 2 Distribution channels: Global Distribution System / Reservation systems; Ch 3 Distribution channels: Online Travel Agents; Ch 4 Distribution channels: Internet booking engines, Social Media; Ch 5 Transport; Ch 6 Destination; Part 2 Buildings: Ch 7 Buildings; CH 8 Equipment; Ch 9 Technology; Part 3 Purchasing: Ch 10 Purchasing: local; Ch 11 Purchasing: national; CH 12 Purchasing: international; Ch 13 Vendors; Ch 14 Transport; Part 4 Operations: Ch 15 Staff: intern; Ch 16 Staff: outsource
Ch 17 Rooms; CH 18 Supporting; Ch 19 F&B; Conclusion
About the authors
Elena Cavagnaro
Ph.D., Professor of Applied Sciences, Stenden University of Applied Sciences, Netherlands