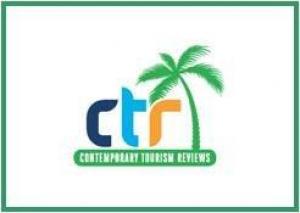 Contemporary Tourism Reviews
Critical, state of the art, authoritative reviews written by leading thinkers and academics in the field providing flexible, current and topical information as an instant download.
Editor in chief: Professor Chris Cooper
ISBN: CTR
---
Now available as instant downloads on Kindle and Kobo
What is the ideal way to introduce your students to key topic areas in Tourism? Or the fastest route to research areas that are outside of your particular specialties?
Whether you are a student, researcher, lecturer, trainer, consultant, practitioner or policy-maker, the CTR series will provide you with immediate electronic access to all the information you will need to gain a firm understanding of a topic.
Each page is packed with links to original sources of information, sites, journals and books and with a complete glossary of terms, saving you valuable research time. Each review is a multi-dimensional' one-stop shop' of information, equipping the reader with all they need to learn about each topic.
Contemporary Tourism Reviews
will provide you with critical, state-of-the-art surveys of all of the major areas of tourism study to people who are coming to a topic for the first time. The CTR series provides accessible and structured overviews to all areas of research in the broadly defined subject of tourism with links to original sources of information, sites, books and journals as well as a complete glossary of terms, allowing the reader to research as deeply as they wish. Available instantly as downloads, each review provides the equivalent of 30-40 printed pages in an interactive PDF format. All of the reviews are academically rigorous and immensely readable. References are highlighted throughout the text of each review and links are embedded throughout so that the reader can save time by drilling down to the cited sources through their library's electronic journals portal as soon as they come across the citation in the review.
Each review has a common structure—an introduction to the development of the field, a survey of current thought, an exploration of the key debates and extensive references. Each review uses mini- cases and examples to illustrate the concepts. The series is edited and commissioned by Professor Chris Cooper of Oxford Brookes University with the help of an Editorial Board composed of well-known international tourism academics. Each CTR author has an acknowledged reputation in the topic he or she has written and is experienced in presenting the material to novices and experts alike. New reviews will be added as new topics emerge and existing reviews will be updated regularly to maintain their relevance. A glossary of all the concepts and terms covered in the whole series is available free of charge with the purchase of any CTR title.
NEW - Regional Reviews

Complementing the existing series, Regional Reviews provide 'packets' of tourism knowledge, focused on tourism destinations in an online format for download. Each regional review reflects not only the current status of tourism at the destination, but also the contemporary issues it faces. The first titles in the series are now available below: Ruhanen & Craig-Smith on Australia , Baggio & Mottironi on ItalyHarrison and Pratt on Pacific Islandsand Telfer and Hashimoto on Canada.
Currently available

• City Branding (Heeley)

• Economics of Tourism (Dwyer & Forsyth)

• Tourism & Entrepreneurship (Rimmington)

• Tourism & History (Walton)

• Tourism & Network Analysis (Baggio)

• Tourism & Policy (Scott)

• Tourism & Service Management (Solnet)

• Tourism & Technology (Buhalis & Sun)

• Tourism & Transport (Duval & Lohmann)

• Tourism Area Life Cycle (Butler)

• Qualitative Forecasting in Tourism (Song and Lin)

NEW

• Hospitality & Tourism Management Accounting (Atkinson & Jones)

NEW

• Event Management - Michelle Whitford and Ashley Dunn

NEW Coming Soon

• Tourism Futures (Yeoman)

• Tourism & Crime (Botterill & Jones)

• Tourism Geographies (Gale)

Future Topics

• Destination Management

• Tourism & HR

• Tourism & International Business/Globalization

• Tourism & Sociology

• Tourism & Sustainability

• Tourism & Anthropology

Suggestions for emerging areas you would like to see covered (or are willing to write yourself) can be sent directly to the publisher. Reviews will be subject to a peer review process by the series editor and the editorial advisory board. In particular we will ensure that this procedure allows authors in Australia to count the review as one of their peer reviewed publications.

About the Series Editor

Professor Chris Cooper is Pro Vice Chancellor and Dean of the Faculty of Business at Oxford Brookes University. He has more than twenty-five years experience in the tourism sector, beginning his career in market planning and research with the UK's largest tour operator, Thomson Travel, and he has since worked as a researcher and teacher in every region of the world.

Today, Professor Cooper works with international agencies in tourism research and education, such as the European Union, the International Labour Organization, the OECD and ASEAN but primarily with the UN World Tourism Organization where he held the Chair of the UNWTO's Education and Science Council from 2005 - 2007.

Editorial Board

We are delighted to have the following international and well-respected experts on the editorial board, working with us to shape and continually improve the reviews:

Dimitrios Buhalis, University of Bournemouth, UK

Richard Butler, University of Strathclyde, UK

Larry Dwyer, University of New South Wales, Australia

C Michael Hall, University of Canterbury, New Zealand

John Swarbrooke, Manchester Metropolitan University

Louise Twining Ward, Tourism | Sustainability | Monitoring Consultancy, USA

Alan Williams, London Metropolitan University, UK
Buy several reviews and save money
Buy two reviews for £15 - use CTRbuy2 at checkout
Buy three reviews for £20 - use CTRbuy3 at checkout
Buy four reviews for £22.50 - use CTRbuy4 at checkout