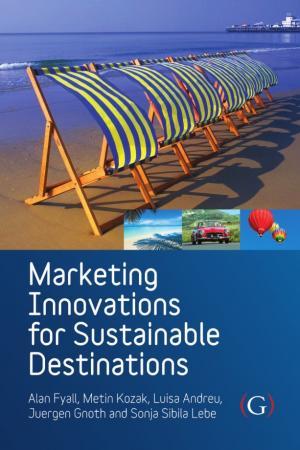 Marketing Innovations for Sustainable Destinations
Edited by: Alan Fyall, Metin Kozak, Luisa Andreu, Juergen Gnoth, Sonja Sibila
ISBN: 978-1-906884-05-5
| [
View book contents
]
---
The combined forces of growing competition, changing patterns of consumption, environmental factors and slowing economic growth mean that the next decade will provide a challenging environment for tourism marketing.
Marketing Innovations for Sustainable Destinations
is a collection of groundbreaking and stimulating chapters that explore innovative marketing operations, interactions and experiences, illustrating how each contributes to the sustainable development of destinations.
Divided into three parts,
Marketing Innovations for Sustainable Destinations
discusses:
Consumer decision making and tourist experience: including advertising and word-of-mouth marketing, touristic consumption, the role of emotions in consumer decision making, tourist decision strategies in a multi-level perspective, and the concept of travel horizon;
Destination image, positioning and branding: including issues in nation branding, issues for urban destinations, sports tourism and motorsports, tourism brand personality and issues in co-branding;
Destination stakeholders and networks: including the role of brands in dialectical relationships, and networking for market diversification.
In this edited collection of reflective, challenging and provocative papers derived from the 3rd Advances in Tourism Marketing Conference (ATMC 2009), leading international tourism and marketing academic researchers, policy makers and practitioners critically discuss vital contemporary themes relating to innovative marketing operations, interactions and experiences and the means by which each contributes to the sustainable development of destinations.
This book is essential reading for all those involved in tourism marketing research and the tourism industry.
Contents: Ch. 1 - Introduction, Ch. 2 - Advertising and Word of Mouth in Tourism, a Simulation Study, Ch. 3 - Infosource Scale: a Measure to Assess External Tourism Information Sources' Importance, Ch. 4 - European Tourist Destinations in Internet Search Engines: a Comparison, Ch. 5 - Rejuvenating Touristic Consumption, Ch. 6 - The Role of Emotions in Consumer Decision Making for Budget City Breaks, Ch. 7 - Tourist Decision Strategies in a Multi-Level Perspective, Ch. 8 - Push Motivations for Tourism Mountain Destinations, Ch. 9 - Perceived Authenticity of Cultural Heritage Sites: Towards an Integrative Conceptual Model, Ch. 10 - Assessing Mainland Chinese Tourists' Satisfaction with Hong Kong using the Tourist Satisfaction Index, Ch. 11 - Angry or Regretful? The Effect of Dissatisfaction on Tourists' Negative Word of Mouth and Exit, Ch. 12 - The Concept of Travel Horizon Revisited: Toward More Relevance of Past Travel Experience, Ch. 13 - Assessing the International Image of an Urban Destination: the Case of Milan, Ch. 14 - A Study of Non-visitors: Which Image Do They Hold of Destinations Not Visited?, Ch. 15 - Effect of Controllable and Non-controllable Sources of Information on the Image of Turkey, Ch. 16 - 'We'll All Go Down Together': the Marketing Response of Australia's Outback Destination to Recent Declines in Performance, Ch. 17 - The Prospects and Challenges of Positioning Ghana as a Preferred African-American Tourist Destination, Ch. 18 - Sports Tourism and Motorsports – an Exploration, Ch. 19 - Marketing and Managing Nation Branding during Prolonged Crisis: the Case of Israel, Ch. 20 - Is the Strategy of Becoming the Las Vegas of Asia Working for Macau? A Co-branding Perspective, Ch. 21 - Towards a Tourism Brand Personality Taxonomy: A Survey of Practices, Ch. 22 - The Role of Brands in Dialectical Relationships between Destination and Tourist Products, Ch. 23 - The Power of Loose Ties – Networking for Market Diversification in Remote Australia, Ch. 24 - From Marketing to Market Practices: Assembling the Ruin Bars of Budapest, Ch. 25 - Determinants of Hotel Performance: Continental or Worldwide Style?, Ch. 26 - An Investigation into the Relationship between Marketability of a Destination and the Long-Term Survival of Hawkers
About the editors
Dr Alan Fyall
, Orange County Endowed Professor of Tourism Marketing and Graduate Programs Director at the Rosen College of Hospitality Management, University of Central Florida, USA;
Metin Kozak
, Professor of Marketing in the School of Tourism and Hospitality Management, Mugla University, Mugla, Turkey;
Luisa Andreu
, Associate Professor of Marketing, University of Valencia, Spain;
Juergen Gnoth, Senior Lecturer at the University of Otago, New Zealand;
Sonja Sibila Lebe
, Head of the Tourism Department at the Faculty of Economics and Business, University of Maribor, Slovenia.
Pub date:
06 September 2009
Hardback: £75.00, Euro 98, US$ 120
E-Chapter: £7.00, Euro 7.50, US$ 9.50 each