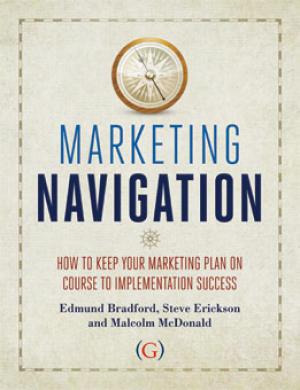 Marketing Navigation
How to keep your marketing plan on course to implementation success
ISBN: 9781908999238 HB; 9781908999245 PB
---
Billions of dollars are lost every year from marketing plans that fail to get implemented properly. The risks around implementation are high and the challenges are many. This book draws upon fresh research, new technology and decades of experience to help marketers improve their chances of success. The authors propose a practical marketing navigation system to help all businesses ensure their plan identifies the implementation risks and remains on course to deliver its targets.
The book is packed with examples from organizations of every size, from both manufacturing and service sectors, and from around the world. They show the variety of challenges experienced and the lessons we can all learn about how those challenges were overcome. They demonstrate:
tried-and-tested ideas from other professions that you can import and adapt easily for your implementation purposes
how you can use your existing marketing skills in new ways to sell your plan internally
a simple but powerful tool that you can use to help ensure your plan is always on course and on schedule. It will become your steering wheel and GPS for the journey ahead.
The book will be essential reading for marketing managers and strategists, trainers and anyone doing executive courses in the field. For professionals and students alike it will help the process of developing your thinking from marketing management to full scale marketing strategy implementation.

Contents: Part 1: An Introduction to Marketing Navigation: 1 A new way to steer your plan to success; 2 The Marketing Navigation System; 3 The essential elements of an excellent marketing plan; Part 2: Using the Marketing Navigation System: 4 How to plan your implementation journey; 5 Piloting your plan; 6 Rolling out your plan; 7 Refining implementation; 8 The technology of testing; Part 3: Summary and Implications:' 9 The new marketing leader; 10 Conclusions; Appendices; Part 4: Marketing Implementation Case Examples; Index



About the Authors
Edmund Bradford is a serial entrepreneur who has co-founded successful consultancies in strategic marketing and key account management. He is also a Director and co-founder of Market2win Ltd which produces simulation games to teach students and executives about strategy. He has been involved with implementing strategic initiatives around the world for over 20 years, acting as both a consultant and senior executive to companies such as Brussels Airlines, Compass Group, GlaxoSmithKline, Jones Lang LaSalle, Parker Hannifin Corporation, United Utilities and a host of small enterprises.

Steve Erickson Vice President Strategic Marketing for Parker Hannifin Corporation, a $13 billion global diversified manufacturer headquartered in Cleveland, Ohio. Parker's many motion and control technologies are used in thousands of applications for a wide variety of machines such as the F-22 Raptor, earthmoving equipment, ships, factory automation and air conditioning.
Steve has global responsibility for developing and supporting Parker's strategic marketing process in the areas of market intelligence, business intelligence and economic intelligence.

Malcolm McDonald MA (Oxon), MSc, PhD, D.Litt., FCIM, FRSA, until recently was Professor of Marketing and Deputy Director, Cranfield University School of Management in England with special responsibility for e-business, and is now an Emeritus Professor at the University as well as Honorary Professor at Warwick Business School. Malcolm has extensive industrial experience, including a number of years as Marketing Director of Canada Dry, and has written over forty books, including the best seller 'Marketing Plans; how to prepare them; how to use them'.


Publication and Prices

Pub Date: September 2012
Hardback: £65, Euro 78, US$ 104
Paperback: £29.99, Euro 36, US$ 48
E-Chapter: £4.99, Euro 5.99, US$ 7.99 each
A paperback copy is available on inspection to bona fide lecturers-conditions apply.