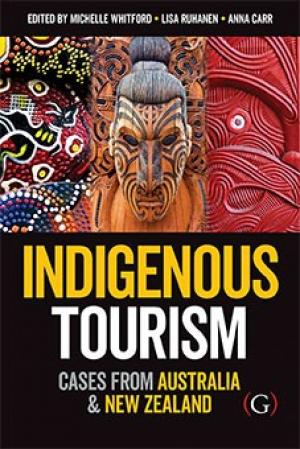 Indigenous Tourism
Cases from Australia and New Zealand
ISBN: 9781911396406 HBK; 9781911635284 PBK; 9781911396413 eBook
---
| | | |
NOW IN PAPERBACK!
"This collection marks the first time a book about indigenous tourism has been released that focuses specifically on the Australasian context. It has been constructed in a clear, logical manner, and employs language and ideas that make it accessible to a broad audience, from undergraduate students through to industry practitioners."
Jared Mackley-Crump (2018): Indigenous tourism: Cases from Australia and New Zealand, Annals of Leisure Research, DOI: 10.1080/11745398.2018.1534599
"… this book is important for tourism research, education and practice…[it] will surely inspire scholars from around the world to collaborate with indigenous individuals and groups to imagine and practice a sustainable indigenous tourism."
Solène Prince (Feb 2018): A Review of "Indigenous tourism: cases from Australia and New Zealand", Tourism Geographies, DOI: 10.1080/14616688.2018.1434821
Australia and New Zealand are arguably two of the world's leading Indigenous tourism destinations. This volume presents a collection of unique case studies focusing on issues pertaining to Indigenous tourism planning and development.
Issues covered include:
Strategies for sustainable development;
Diversifying economies through Indigenous tourism;
Preparing for tourism and developing capacity ;
Successful Indigenous tourism entrepreneurship
The research papers in this volume introduce some of the most interesting entrepreneurial Indigenous tourism ventures and associated research in the world, providing inspiration and information to readers (i.e., students, researchers and industry) around the world.
With contributions from experts in the field
Indigenous Tourism: Cases from Australia and New Zealand
is the first edited volume to specifically highlight the culture, traditions, and knowledge of the First Peoples of Australia and New Zealand. It provides important reading for researchers, students and practitioners around the globe as awareness of, and interest in the diversity of Indigenous cultures, traditions, histories and knowledge continues to grow.
About the Editors
Michelle Whitford
, Department of Tourism Sport and Hotel Management, Griffith University, Australia
Lisa Ruhanen
, UQ Business School, The University of Queensland, Australia
Anna Carr
, Department of Tourism, University of Otago, New Zealand
Publication date
August 2017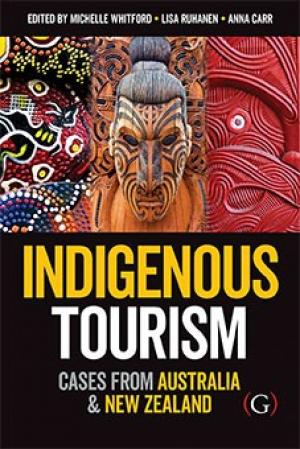 Table of contents
Ch 1 Introduction to Indigenous Tourism in Australia and New Zealand (Michelle Whitford, Lisa Ruhanen and Anna Carr)
Ch 2 Indigenous Tourism in Australia: History, trends and future directions (Lisa Ruhanen and Michelle Whitford)
Ch 3 Achieving Aboriginal Development Aspirations through Educational Tourism: Learning on country with Bana Yarralji Bubu (Helen Murphy)
Ch 4 Aboriginal Tourism in Western Australia: A case study of Yawuru Nagulagun Roebuck Bay Marine Park (Lori-Ann Shibish, Ross Dowling and Greg Willson)
Ch 5 First Things First: The foundations of organisational development (Gabrielle Russell-Mundine)
Ch 6 Native Foods in Australian Restaurants: How to ensure Indigenous Australians benefit? (Freya Higgins-Desbiolles, Tricia Vilkinas, Gayathri Wijesinghe and Stuart Gifford)
Ch 7 Closing the Gap? Transforming Indigenous tourism through recognition, redistribution and representation (Rob Hales and Freya Higgins-Desbiolles)
Ch 8 Understanding Tourism through an Indigenous Lens of New Zealand and Aboriginal Australian Cultures (Freya Higgins-Desbiolles, Sharleen Howison and Zexuan Sun)
Ch 9 Maori Tourism in New Zealand (Anna Carr)
Ch 10 The Economic Value of Identity: (Re)thinking Maori tourism (Maria Amo amo)
Ch 11 Tourism and Ethno-development: Inclusion, empowerment and self-determination – a case study of the Chatham Islands (Andrew Cardow and Peter Wiltshire)
Ch 12 Mana versus Money: An Indigenous perspective on the tribal tourism destination of Whakarewarewa (Keri-Anne Wikitera and Hamish Bremner)
Ch 13 A Māori Relational Approach to Building Value Chains in Tourism (Chellie Spiller)
Ch 14 Conclusion (Tahn Donovan and Johnny Edmonds)
Index
Table of contents
Ch 1 Introduction to Indigenous Tourism in Australia and New Zealand (Michelle Whitford, Lisa Ruhanen and Anna Carr)
Ch 2 Indigenous Tourism in Australia: History, trends and future directions (Lisa Ruhanen and Michelle Whitford)
Ch 3 Achieving Aboriginal Development Aspirations through Educational Tourism: Learning on country with Bana Yarralji Bubu (Helen Murphy)
Ch 4 Aboriginal Tourism in Western Australia: A case study of Yawuru Nagulagun Roebuck Bay Marine Park (Lori-Ann Shibish, Ross Dowling and Greg Willson)
Ch 5 First Things First: The foundations of organisational development (Gabrielle Russell-Mundine)
Ch 6 Native Foods in Australian Restaurants: How to ensure Indigenous Australians benefit? (Freya Higgins-Desbiolles, Tricia Vilkinas, Gayathri Wijesinghe and Stuart Gifford)
Ch 7 Closing the Gap? Transforming Indigenous tourism through recognition, redistribution and representation (Rob Hales and Freya Higgins-Desbiolles)
Ch 8 Understanding Tourism through an Indigenous Lens of New Zealand and Aboriginal Australian Cultures (Freya Higgins-Desbiolles, Sharleen Howison and Zexuan Sun)
Ch 9 Maori Tourism in New Zealand (Anna Carr)
Ch 10 The Economic Value of Identity: (Re)thinking Maori tourism (Maria Amo amo)
Ch 11 Tourism and Ethno-development: Inclusion, empowerment and self-determination – a case study of the Chatham Islands (Andrew Cardow and Peter Wiltshire)
Ch 12 Mana versus Money: An Indigenous perspective on the tribal tourism destination of Whakarewarewa (Keri-Anne Wikitera and Hamish Bremner)
Ch 13 A Māori Relational Approach to Building Value Chains in Tourism (Chellie Spiller)
Ch 14 Conclusion (Tahn Donovan and Johnny Edmonds)
Index
About the authors
Michelle Whitford
, Department of Tourism Sport and Hotel Management, Griffith University, Australia
Lisa Ruhanen
, UQ Business School, The University of Queensland, Australia
Anna Carr
, Department of Tourism, University of Otago, New Zealand
Table of contents
Ch 1 Introduction to Indigenous Tourism in Australia and New Zealand (Michelle Whitford, Lisa Ruhanen and Anna Carr)
Ch 2 Indigenous Tourism in Australia: History, trends and future directions (Lisa Ruhanen and Michelle Whitford)
Ch 3 Achieving Aboriginal Development Aspirations through Educational Tourism: Learning on country with Bana Yarralji Bubu (Helen Murphy)
Ch 4 Aboriginal Tourism in Western Australia: A case study of Yawuru Nagulagun Roebuck Bay Marine Park (Lori-Ann Shibish, Ross Dowling and Greg Willson)
Ch 5 First Things First: The foundations of organisational development (Gabrielle Russell-Mundine)
Ch 6 Native Foods in Australian Restaurants: How to ensure Indigenous Australians benefit? (Freya Higgins-Desbiolles, Tricia Vilkinas, Gayathri Wijesinghe and Stuart Gifford)
Ch 7 Closing the Gap? Transforming Indigenous tourism through recognition, redistribution and representation (Rob Hales and Freya Higgins-Desbiolles)
Ch 8 Understanding Tourism through an Indigenous Lens of New Zealand and Aboriginal Australian Cultures (Freya Higgins-Desbiolles, Sharleen Howison and Zexuan Sun)
Ch 9 Maori Tourism in New Zealand (Anna Carr)
Ch 10 The Economic Value of Identity: (Re)thinking Maori tourism (Maria Amo amo)
Ch 11 Tourism and Ethno-development: Inclusion, empowerment and self-determination – a case study of the Chatham Islands (Andrew Cardow and Peter Wiltshire)
Ch 12 Mana versus Money: An Indigenous perspective on the tribal tourism destination of Whakarewarewa (Keri-Anne Wikitera and Hamish Bremner)
Ch 13 A Māori Relational Approach to Building Value Chains in Tourism (Chellie Spiller)
Ch 14 Conclusion (Tahn Donovan and Johnny Edmonds)
Index
About the authors
Michelle Whitford
, Department of Tourism Sport and Hotel Management, Griffith University, Australia
Lisa Ruhanen
, UQ Business School, The University of Queensland, Australia
Anna Carr
, Department of Tourism, University of Otago, New Zealand
Sample files
Contents, copyright and biographies.pdf
Chapter 1 Introduction to Indigenous Tourism in Australia and New Zealand free.pdf
Chapter 2 Indigenous Tourism in Australia - History, trends and future directions free.pdf
Chapter 3 Achieving Aboriginal Development Aspirations through Educational Tourism - Learning on country with Bana Yarralji Bubu free.pdf
Chapter 4 Aboriginal Tourism in Western Australia - A case study of Yawuru Nagulagun Roebuck Bay Marine Park free.pdf
Chapter 5 First Things First - The foundations of organisational development free.pdf
Chapter 6 Native Foods in Australian Restaurants - How to ensure Indigenous Australians benefit free.pdf
Chapter 7 Closing the Gap - Transforming Indigenous tourism through recognition, redistribution and representation free.pdf
Chapter 8 Understanding Tourism through an Indigenous Lens of New Zealand and Aboriginal Australian Cultures free.pdf
Chapter 9 Māori Tourism in New Zealand free.pdf
Chapter 10 The Economic Value of Identity - (re)thinking Maori tourism free.pdf
Chapter 11 Tourism and Ethno-development - Inclusion, empowerment and self-determination – a case study of the Chatham Islands free.pdf
Chapter 12 Mana versus Money - An Indigenous perspective on the tribal tourism destination of Whakarewarewa free.pdf
Chapter 13 A Māori Relational Approach to Building Value Chains in Tourism free.pdf
Chapter 14 Conclusion free.pdf