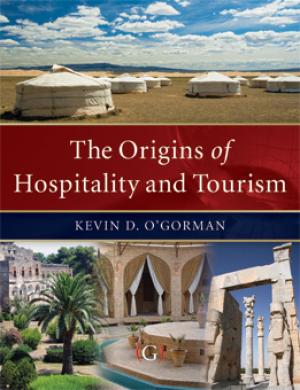 The Origins of Hospitality and Tourism
ISBN: 978-1-906884-08-6
DOI: 10.23912/978-1-906884-08-6-990
---
| | | |
In The Origins of Hospitality and Tourism, Kevin O'Gorman provides a unique and rich analysis. His historical/philosophical approach invites the reader to share in a deep understanding of the terms by a thorough engagement with textual evidence from and about Classical Antiquity. A fascinating read.
Professor John Tribe, University of Surrey, UK and Editor of Annals of Tourism Research
All those interested in hospitality and tourism will benefit great by reading this book, not only by understanding more clearly from whence the key elements of hospitality came, but how much the principles of modern hospitality are based on those of the past. The thorough and careful research in this book ensures that it will become a key reference for teachers and researchers in hospitality, and also for all who are interested in the origins of both hospitality and tourism.
Professor Richard W Butler, Visiting Professor, Griffith University, Queensland
This is perhaps the first book really looking in-depth into the origins of hospitality and tourism. It provides many examples and rich descriptions of hospitality from different civilizations. Hospitality students, educators, practicing managers in the industry should read this book to better understand the true origins of hospitality and tourism.
Dr. Fevzi Okumus, University of Central Florida, Editor of International Contemporary Hospitality Management
This book makes a major contribution to knowledge in the field and has perfect timing as a result of the emerging school of 'hospitality studies'.
Stephanie Jameson, Principal Lecturer, Leeds Metropolitan University
The arrival of this book represents the end of a long wait for a reliable and scholarly history of the hospitality and tourism industries...
Anatolia 22 (2011)
The academic rigour of this work serves to restore hospitality to its honorable place as a social, experiential activity and reminds us that rather than a purely commercial pursuit hospitality is a phenomenon of cultural expressionism.
Associate Professor Barry O'Mahony, Victoria University, Australia
…this text should be a required reading for any PhD in the field. Beyond graduate students, this text should be a must-read for industry managers. The text is well written, beautifully researched, and makes a contribution as being the first book that examines the origins of hospitality and tourism.
Annals of Tourism Research, Vol. 38, No. 4, 2011
The Origins of Hospitality and Tourism
is an exciting new text about the true origins of the hospitality and tourism industry, identifying how an understanding of the past can inform modern approaches to hospitality and tourism management. It includes:
A detailed and factual account of the origins of the underlying principles and practices of hospitality and tourism;
Provides a unique insight into the evolution of hospitality and the roles of 'guest' and 'host' as we recognise them today;
Focusses on the social, economic and geographical influences from Classical Antiquity to the Renaissance;
Serves as an introductory text for Hospitality and Tourism Studies, as well as providing a sound foundation for postgraduate studies.
Divided into 10 chapters, ideal for semester teaching,
The Origins of Hospitality and Tourism
provides a structured approach and supporting information for those wanting to develop their knowledge and understanding of the phenomenon of hospitality. It covers the study of, and the development of understanding of, the origins of hospitality traditions within the domestic, civic and commercial contexts of hospitality, and develops this into the presentation of a new Dynamic Model of Hospitality.
This text comes complete with a comprehensive bibliography, links to range of further information sources, and a set of fully worked PowerPoint slides for teaching purposes (see "Online Resources" tab).
Publication and Prices
Pub Date: March 2010
Paperback: £29.99, Euro 36, US$ 48
E-Chapter: £4.99, Euro 5.99, US$ 7.99 each
A paperback copy is available on inspection to bona fide lecturers-conditions apply.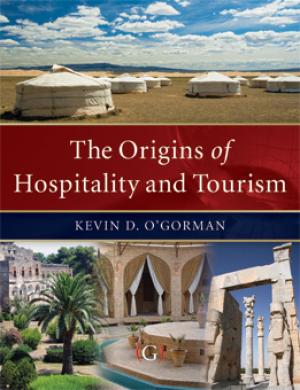 About the authors
Professor Kevin D O'Gorman
is Professor of Business Management at Heriot Watt University. His doctorate in in the history and philosophy of hospitality in the Greco-Roman World of Classical Antiquity. He has published extensively on topics relating to the history, practice and philosophy of hospitality management. He is also to be the guest editor of a special issue of the International Journal of Contemporary Hospitality Management that is investigating the History of the Commercial Hospitality Industry from Classical Antiquity to the 19th Century.